The move to incorporating CAD or BIM data from programs with rich Geographic Information System (GIS) data is growing quickly in the AEC Industry. Project design data from Autodesk Civil 3D, Revit, Infraworks, BIM 360 and AutoCAD, paired with project context data from Esri's ArcGIS platform delivers a well-informed overall AEC project environment.
MG AEC Technology Partners ("MG") has made a deep commitment to the CAD/BIM to GIS movement through our partnerships with Autodesk and Esri, as well as MG's talented AEC design technology staff. Together we created a comprehensive suite of services to ensure the success of clients that we serve.
First let's breakdown AEC into its components – Architecture, Engineering (for the purposes of this post, Civil Engineering) and Construction. Each AEC discipline has needs for different types of GIS data sources, patterns of use and delivery methods. Knowing this, Esri created five AEC collections geared towards the requirements of various AEC professions. The collections are made up of various user types, with each user type having a specific function set within an AEC firm. Each is a "named-user" license. The user types and functions include: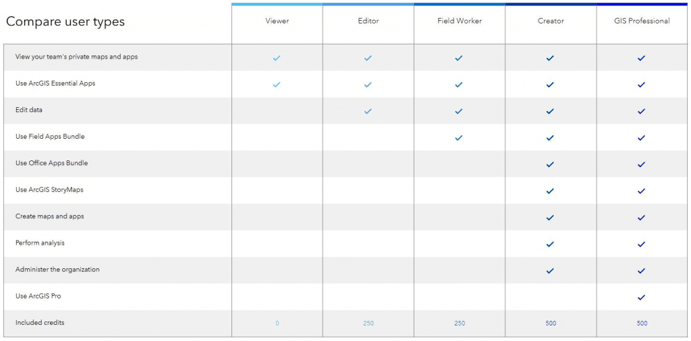 The Five ArcGIS AEC Collections
ArcGIS for AEC Location and Design Collection Key Features: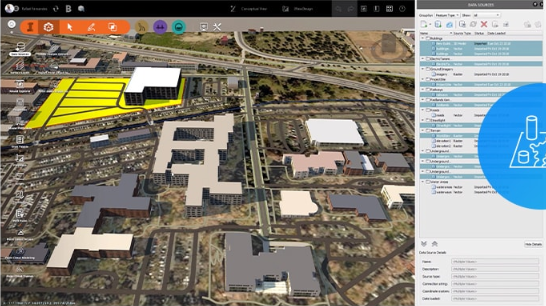 – Designed to increase design efficiency by reduce design errors and data duplication by connecting your Autodesk products to a single source of truth for CAD and GIS content.
– Enhance your designs by adding contextual GIS data into Autodesk products to help you deliver your projects ahead of schedule and on budget.
– Accelerate your project by connecting to thousands of authoritative datasets from ArcGIS Living Atlas of the World, which includes data provided by federal agencies, local municipalities, and other authoritative organizations.
Location and Design are the basic foundational collection any AEC firm can start with. The Location and Design Collection comes with one license for the ArcGIS Professional user type and one license for the Creator user type. From there, the firm decides how many of the other modules they need to round out their staff and workflow requirements.
For example, a general contractor purchases the base Location and Design Collection. Over time, the firm requires six field operations worker licenses for its project survey and operations team members. Their team does not do much design/drafting work but occasionally needs to access in context site plans, so they decide on two editor licenses to start. They also have eight project managers and superintendents requiring data access on the site and for planning purposes, so the firm selects eight viewer licenses.
ArcGIS for AEC Field Operations Collection Key Features: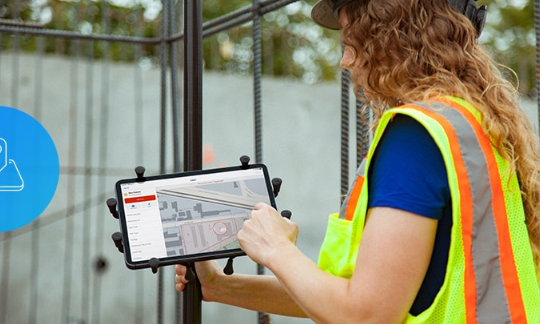 – Autodesk users and project teams now have instant* access to content collected by surveyors and field staff who use ArcGIS apps for the field. (* based on connectivity)
– ArcGIS apps for the field reduce redundancy and project miscommunication. Increase productivity by eliminating paper-based data collection.
– Gain greater visibility into field activities Use dashboards to communicate the status of field data collection of built and environmental assets to stakeholders by monitoring, tracking, and reporting KPIs in real time.
The key addition to this collection is the inclusion of three field operations workers licenses along with the ArcGIS Professional and Creator licenses – ideal for a surveyor or asset collection and management firm – also popular with civil engineering firms.
For example, a civil engineering firm may require (in addition to the foundation collection), two Field Operations Worker Licenses for their survey team and four Editor Licenses for their design and drafting team, allowing them to work in conjunction with Esri ArcGIS data, Autodesk Civil 3D and Infraworks Data. The firm may also decide they need six Viewer Licenses, allowing project managers and project stakeholders to view and notate project data.
ArcGIS for AEC Site Selection Collection Key Features: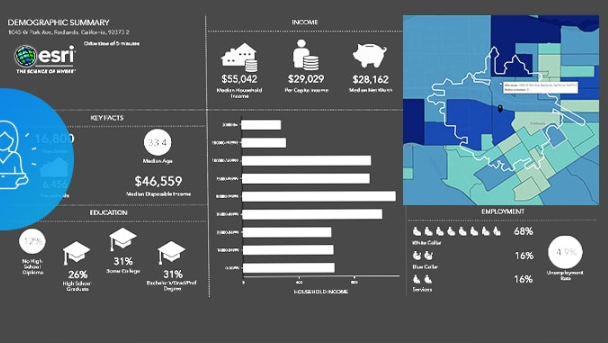 – Gain valuable insight into your proposed design by comparing thousands of variables including demographics, traffic counts, and consumer spending—ultimately ensuring your design best supports your stakeholders' needs.
– Validate design decisions by creating comparison reports of demographics, consumer expenditure, and lifestyle segments. Walkability and drive time reports ensure client success and allow you to design the best site possible.
– Help the firm's clients make informed decisions by visualizing and sharing conceptual models in context for better understanding to get stakeholder, community, and regulatory buy-in.
The Site Selection Collection starts with the power of the professional and creator capabilities. From there, the powerful ArcGIS Business Analyst Web App is added allowing firms to gain valuable insight into your proposed design by comparing thousands of variables including demographics, traffic counts, and consumer spending—ultimately ensuring your design best supports your stakeholders' needs.
An example client for the Site Selection Collection might be an architectural and/or planning firm planning to offer better-informed services and project designs on behalf of their clients. They may choose to add a license or two from the editor packages so that they can interactively analyze civil site designs with GIS data for well-rounded site development decisions. The firm may also choose to add several viewer licenses for project team members and stakeholders to take an interactive role in the site selection process.
ArcGIS for AEC Collaboration and Project Delivery Collection Key Features: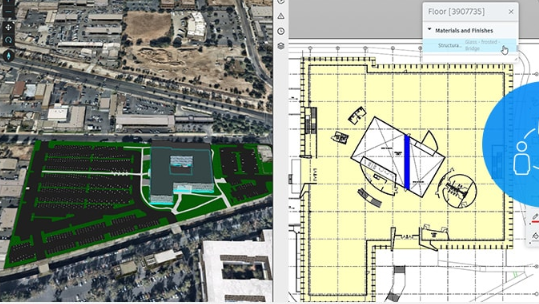 – Share, deliver and maintain a focused common data environment that enables your clients to access their project data.
– Streamline your preliminary, detailed, and as-built review process and provide clients with simple access to project information.
– Automate the deployment of GIS applications and standard project workflows to quickly deliver content to clients.
The foundation of the Collaboration and Project Delivery Collection is the ArcGIS Professional and Creator user type packages. Adding the powerful Project Delivery application allows your firm to collaborate and share information directly with project stakeholders in a fully interactive way. Everything from status updates to reviews and edits – Project Delivery unlocks a new way to compile and communicate the project progress. It also becomes a "source of truth" container for project hand-off from the GC to the Owner.
An sample deployment for a contractor planning to deliver added value throughout the project lifecycle for their client, may include the AEC Collaboration Collection with its private Project Delivery portal, the powerful ArcGIS Pro with the ability to import Revit BIMs via drag-and-drop. The contractor can also add any needed Field Operations Worker packages for job site team's asset collection, safety reporting and other important day-to-day requirements.
ArcGIS Site Scan for AEC Collection: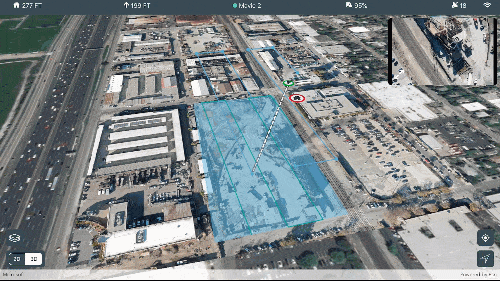 Site Scan for ArcGIS is a new Esri product (as of January 2020) providing a complete, end-to-end workflow for acquiring and processing drone imagery, working with the resulting data products, and managing your drone assets. Site Scan for ArcGIS provides drone flight planning, fleet management, image processing, and analysis capabilities as Software as a Service (SaaS). Site Scan delivers a complete end-to-end solution for drone imaging projects.
With Site Scan, drone operators can:
– Plan and execute drone flights and manage flight data and metadata to support project requirements
– Manage their drone fleet to run safe and efficient drone operations
– Generate 2D and 3D mapping and analytics products from drone imagery
– Publish drone mapping products to ArcGIS Online, ArcGIS Enterprise, and Autodesk BIM 360
As with all the ArcGIS AEC Collections, the Site Scan for AEC Collection starts with the Professional User and Creator user types. Note here: firms already owning at least one of the ArcGIS AEC Collections above can add the Site Scan Collection without having to purchase an additional base Collection. The Site Scan ArcGIS AEC Collection includes, an additional Creator user type license of ArcGIS, two Site Scan for ArcGIS Single Operator term licenses and one Site Scan for ArcGIS Single Access term license, along with 14,000 ArcGIS Service Credits.
With any of the ArcGIS for AEC Collections, additional user type licenses can be added to the overall term license as your firm's needs grow. As the value of GIS data becomes an integral part of your firm's AEC project design, engineering, construction and operations' workflows, you may wish to explore some for the additional AEC focused ArcGIS tools for everything from Field Operations tasks to in-depth business or spatial analysis. We will look at these tools in an upcoming edition or this blog.
The MG team is here to assist you in crafting powerful AEC solutions, training, and implementation. Feel free to contact Eric Shaffer, Business Development Specialist for our GIS space at eric.shaffer@mg-aec.com or phone 720 215 3802.
---

Stan Hennigh is MG's Esri Partnership Manager as well as Business Development Manager for Esri, Scanning and Specialized Services. Stan's recent project work has centered around BIM-to-GIS projects, smart FM projects. Sustainability, Reality Capture and Autodesk Forge development as it relates to BIM-to-GIS strategies.